Welcome the first installment of what we hope will be a series of posts showcasing classic moments in road racing, especially killer climbs, awesome finishes and hard riders.
We'll start with this great moment from Abraham Olano, who escaped on the final lap to win the 1995 Road World Championships on a flat. The '95 Worlds took place in Colombia, which to most was probably the equivalent of holding a road race in Beirut in the '80s, and it was only the second edition held in the global South. The Spanish team was led by Miguel Indurain, shortly after his final Tour win, a year after setting the hour record and two years after his second Tour-Giro double. Basically, Indurain was a total monster – not a great climber, but superhuman – and, for what it's worth, would win the TT a few days later. Incidentally, Jeannie Longo, who enjoyed full-spectrum dominance in the women's field for like ever, took both the time trial and the road race. Olano's next (and last) real win would be the '98 Vuelta, which was really noteworthy only as the first big stage race to host Lance Armstrong's return to the sport after cancer.
https://www.youtube.com/watch?v=HOtqNQJQcuU
This race featured many of the heaviest hitters of the '90s – Claudio Chiapucci, Gianni Bugno, Bobby Julich, a young Marco Pantani, Laurent Brochard, Richard Virenque, Dimitri Konychev – and took place at a very high altitude (3000m or so), leading to a lot of attrition in the field, which wasn't helped by the full-blown thunderstorm underway. In a bit of perfect team riding, Indurain and Jimenez protected Olano's escape. Indurain would come in second, marking Gianetti's move and edging Pantani, who rounded out the podium at third. (Click the photo below for an inspired summary from Velominati. Read the full CyclingNews summary here.)
[caption id="" align="aligncenter" width="620"]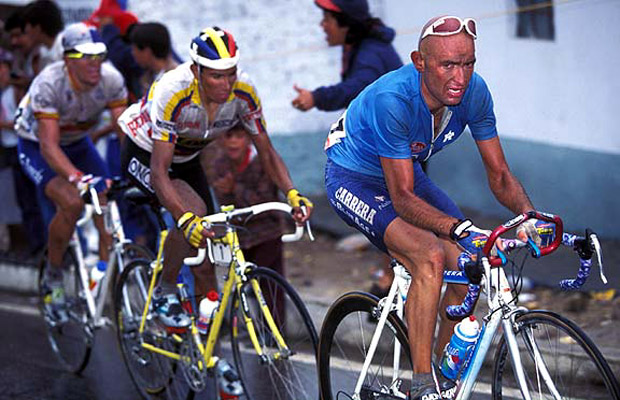 Pantani leading mid-race, with Rincon and Indurain following. Image courtesy of Velominati[/caption]
But the flat! This is the kind of thing you don't see any more in road racing, and we all have carbon to thank for that. Olano is on the rivet murdering that rear wheel, the flat tubular is solidly glued and the rim is beginning to warp, but there's no breakage. A carbon wheel would likely be cashed, and if a spoke broke, forget about clearing the dual pivot brakes. Within a few years this age of classic components would come to an end, though the Ambrosio Nemesis held on for a decade or so more, pressed into service for the cobbles of Paris-Roubaix, where team cars cannot follow. Pantani is already sporting a low-spoke-count carbon rear wheel in the picture above, but you can clearly see that Rincon, the Colombian behind him, has Mavic Gel 280s. I just cut out my pair of GP-4s last week. This was the last time you would see a box-section tubular alongside carbon, Spinaci clip-ons alongside a hairnet, quill stems and downtube shifters alongside threadless headsets and integrated systems. And, wear your helmets everyone, but cycle racing never quite looks right with them.
This video gives me chills – the excitement in David Duffield's voice, Olano's total concentration, Pantani flogging himself to stay on at the back, Indurain marking the chase, the driving rain. Classic. Say what you want about the EPO era, it was electrifying to watch.